Harmless sludge disposal system(HTC)
CREATE_TIME:2019-01-15 VIEWS:608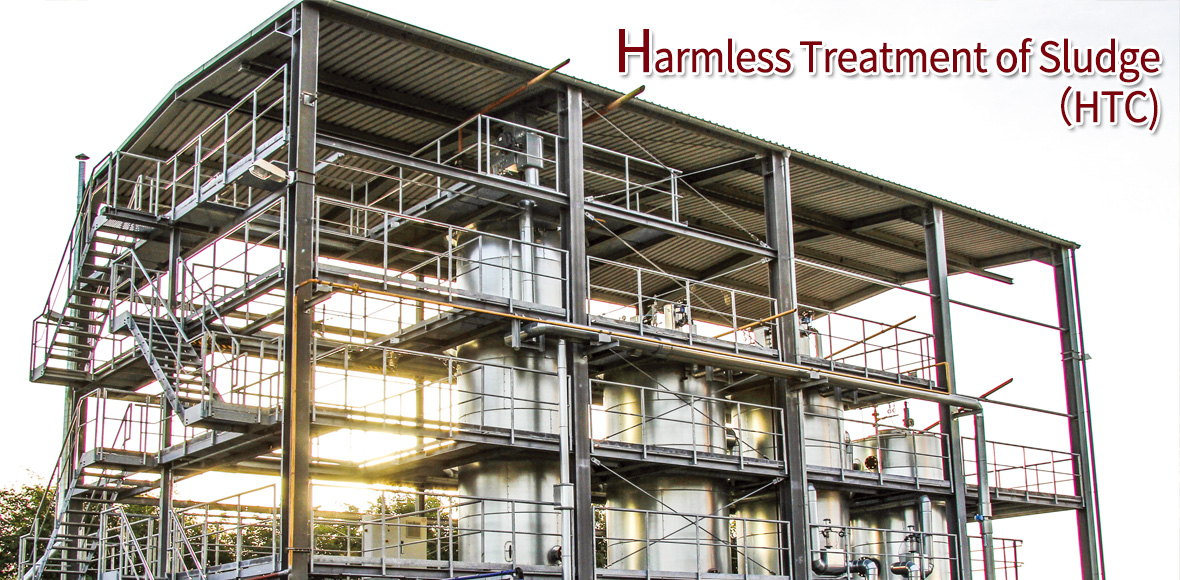 1. Overview of HTC technology
HTC sludge treatment technology is based on the high pressure chemical theory put forward by Friedrich Bergius, a German chemist who won the Nobel Prize in Chemistry in 1931.
C6H12O6 = C6H2O + 5H2O + Heat energy
Sludge is catalytically cracked, and the main biomass is converted to produce biochar which can be directly used as fuel.
HTC technology is currently the only safe and environmental friendly sludge treatment technology which can produce valuable products from sludge and waste treatment. The sludge is dehydrated by hydrothermal carbonization treatment, and the organic matter and inorganic matter in the sludge are separated and the heavy metal is refined.
2. Advantages of HTC technology:
HTCycle technology represents the best solution for sewage sludge treatment.
During the carbonization process, 95% of the heavy metals are adsorbed on the coal, so the heavy metals and other valuable substances in the liquid phase can be separated and extracted. Coal containing heavy metals can be used as adsorbent for heavy metals and other harmful microorganisms in sewage treatment plants. The unique relevance of HTC technology in various industries is that heavy metals can be extracted and water treated can be directly discharged up to standards at the same time.
HTC technology has the following advantages:
1. Significant reduction effect
The sludge with 80% water content per ton can be reduced to 750 kg, which will eventually turn into 250 kg of green biofuel.
2. Cost saving
Less land occupation; Compared with traditional drying technology, the energy demand is significantly reduced, and the energy consumption is only 30% of anaerobic digestion + drying treatment.
3. Considerable profits
Can produce a variety of valuable products, such as activated carbon, HTC coal, phosphorus, ammonium sulfate, etc.,which can be widely used in various industries.
4. No secondary pollution
No emission of waste gas, CO2, ammonia, methane and nitrogen oxide, which makes sludge disposal harmless and greatly reduces the investment and operation cost of flue gas purification system.
三、HTC再生产品介绍:
HTCycle AG的HTC高科技的亮点是污泥处理中产品的产生,如活性碳、磷、硫酸铵等,这些产品在全球具有巨大市场价值,使我们的技术可持续发展及盈利可观。
1.活性炭
由污泥或其他生物质垃圾通过水热碳化(HTC)技术处理后生成。5万吨生物质,包括污泥,碳化后产出活性碳高达1750吨,碳全球市场价高达2.7亿元人民币。
2.HTC煤
由污泥或其他生物质垃圾通过水热碳化(HTC)技术处理后生成。5万吨生物质,包括污泥,碳化后可生产高达11000吨HTC煤,可用产出:18000吨土壤肥料及45000兆瓦时电能。
3.硫酸铵
由污泥或其他生物质垃圾通过水热碳化(HTC)技术处理后生成。5万吨污泥碳化后产出2000吨硫酸铵,在全球市场价值大约在540万元人民币。
4.磷
由污泥或其他生物质垃圾通过水热碳化(HTC)技术处理后生成。5万吨污泥碳化后可产出高达1200吨;磷作为肥料,在全球市场价值超过310万元人民币。